ABH Pharma Nutraceutical Contract Manufacturer Awarded NPA GMP…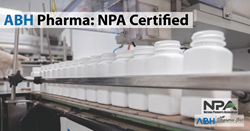 ABH Pharma has allowed our small scale Amazon company to go from 2 products producing 15,000 per month to 12 products and over 2 million dollars annually. I have worked directly with the owner, Frank Cantone from the start and they treat us like a true partner – not just another client – Rob Macneil
BRENTWOOD, N.Y. (PRWEB) November 23, 2017
With a 50,000-square foot facility primed for high volume production they plan to continue to exceed expectations. With the capabilities of over 500,000 units monthly and 8 new additions to the production line they are only getting more efficient. Additions include high speed encapsulation machines, automated powder filling, and high capacity blending.
This is great for the company and their customers. Receiving this accolade will not waiver their efforts to continue striving for the absolute best for their clients.
Rob Macneil said "ABH Pharma has allowed our small scale Amazon company to go from 2 products producing 15,000 per month to 12 products and over 2 million dollars annually. I have worked directly with the owner, Frank Cantone from the start and they treat us like a true partner – not just another client."
This certification is significant because it is yet another trusted source under their belt that determines that the processes they use to manufacture your supplements are in conformance with GMP Dietary Supplement CFR 21 Part 111 standards.
With a growing list of trending Private Label Supplement products perfect for sellers on Amazon, BodyBuidling.com, in big box retailers, or for internet marketers – ABH Pharma, Inc. is now a fully certified one stop shop for all Supplement Manufacturing needs.
ABH has been dedicated to the production of high quality supplements for over 20 years! This holds true because they only use the highest quality ingredients and ends with meticulous formulation. They also watch over their manufacturing process very closely and test/evaluate their dietary supplements.
The protocol for gaining GMP certification includes: raw material identity testing, microbial testing, heavy metal analysis and testing, in-process manufacturing testing, finished product testing. All tests performed are designed to ensure that GMP standards of purity, strength and identity are met. The types of testing employed in house include IFTR, TLC, HPLC, GCMS, LCMS, ICP-MS.
The company is also investing in HPTLC testing.
The NPA has allowed them this accreditation as GMP supplement manufacturers because they take after every one of the regulations made for the best interest of the customer. The NPA is also one of the most seasoned associations of natural product manufacturers which makes their seal of approval that much more valuable.
The logo is an NPA and UL co-branded dietary supplement-specific badge only audited and certified companies can use.
The UL Registrar LLC auditors are professionals of the UL standards and go through the entire audit process with you from the certification to the final decision.
The certification program also allows you to become independently registered for the manufacture, packaging, holding and distribution of finished products, components, ingredients and/or raw materials.
Good Manufacturing Practices are guidelines that provide a system of processes, procedures and documentation to assure a product is compliant with FD&C Act section 520(f).
UL Registrar LLC GMP Certification Program enables manufacturers to become independently registered by UL to meet GMP supplement manufacturing requirements for, and helps companies who wish to demonstrate their commitment to public safety. *Earnings Before Interest, Taxes, Depreciation, and Amortization (EBITDA). Please note that in all instances in this press release, EBITDA refers to EBITDA from continuing operations before unusual items.